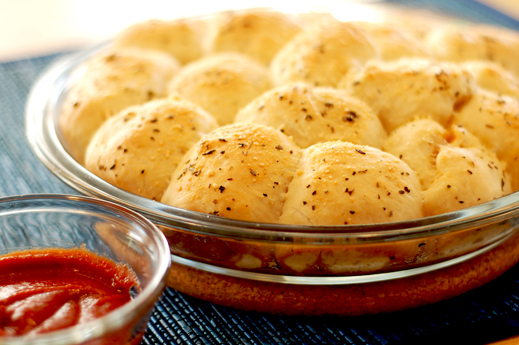 Getting together to watch a game? Or maybe watching a different sort of game? Pizza bites are awesome party food. This recipe makes three trays which means you can pop them in the freezer and always have a quick appetizer on hand. Although, they are usually so popular that you'll wind up baking all three trays in one night!
Pizza Bites
makes 48 bites divided into 3 trays, prep 20 min, cook time 20 min, adapted from
Recipezaar
2 recipes pizza dough (or 2 cans refrigerated pizza dough)
8 oz block mozzarella cheese
4 oz thin sliced pepperoni
2 tsp Italian seasoning (combine oregano, basil, parsley, and garlic)
1/4 cup olive oil
3 tbsp grated Parmesan cheese
pizza or marinara sauce
Prepare pizza dough and roughly chop pepperoni. Cut block of mozzarella into 48 cubes.
If you are going to bake some (or all!) right away preheat oven to 400°F. Grease 3 pie pans.
If using refrigerated pizza dough: roll one dough out into a large rectangle and cut into 24 pieces. Repeat with 2nd pizza dough. If using homemade dough just pinch off walnut sized pieces as you go.
In each dough piece place a couple pieces of chopped pepperoni and a cube of cheese. Seal dough around meat and cheese and place seam side down in pie pan.
Repeat, placing approximately 16 dough balls in each pie plate.
Once assembled, combine oil and spices and brush over the dough. Sprinkle with Parmesan cheese.
Now you can cover with plastic wrap and refrigerate or freeze or you can bake right away.
When ready to bake: bake at 400°F for 16-20 min. Serve with warm pizza or marinara sauce.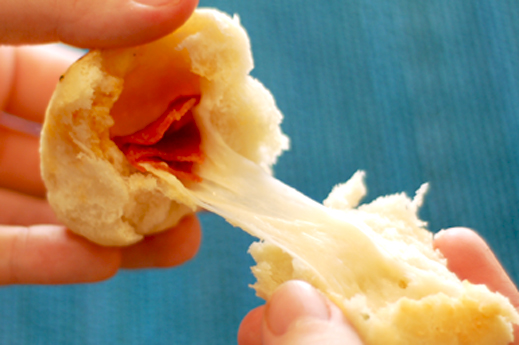 I discovered this dough from Carmen Cooks when I tried her calzone recipe. I have used it over and over since then! I absolutely love it because it is so forgiving and easy to work with. Doubled, it makes the perfect amount of dough for this recipe. I used to use the refrigerated pizza doughs for this recipe, but I actually find the homemade dough far easier to work with.
Basic Pizza Dough
makes 1 recipe pizza dough, prep 10 min, rise time 1 hour
1 pkg active dry yeast (or 2 1/4 tsp loose yeast)
1 cup warm water
1 tbsp olive oil
1 tsp salt
2 3/4 cup flour
Combine yeast and warm water, stir to dissolve.
Add oil, salt, and flour. Stir to combine.
Once dough starts to come together, turn out onto a floured counter and knead to thoroughly combine-until dough is smooth and elastic. If it is uncooperative let it rest for a few minutes and come back to it.
Place dough ball in a greased bowl and cover loosely. Allow dough to rise until doubled, approximately an hour.
Chaos in the kitchen